Girls from "The Hills" and their ...
Want to sport a Whitney or Lauren
braided hairstyle
? It is simple to do. To
style your hair
like Lauren, part hair to either side of your head and from the front side, take about an inch thick section of hair and braid it. Do not braid the full length of hair. Braid just half of it. The styling is almost there, now sport a band and get that ultimate drop dead
gorgeous look
.
The Hills-Fashion and Hairstyles: "The Hills" Beach Fashion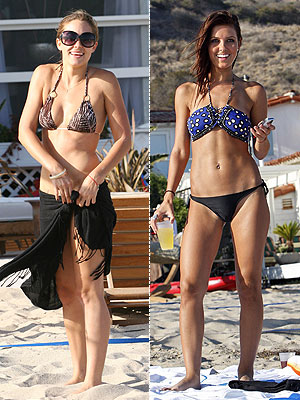 Whitney's look too
is simple and chic. What more, you can do it to your hair too. All you need to do is to part your hair in the centre. On both the sides of your head take about one inch section and make them into a braid.
The Hills-Fashion and Hairstyles: Girls from "The Hills"
The braided sections are now to be pulled together and tied at the ends at the back of your head. This explains that you too can get a nice hairdo in minutes that too without those sprays that stick to your hair forever.
The Hills-Fashion and Hairstyles: The Girls on Mtv Party
"The Hills"
star
Lauren Conrad
has also been seen with sexy updo's and also loves soft curls. This look too is easy to get. You just need hot or cold rollers to get your hair into soft or
heavy curls
.