missing you poems. i love
macman2790
Nov 19, 01:22 AM
Intel and AMD are binary compatible with exception of AMD's SIMD instructions. Ever wonder why there isn't a different copy of Windows for AMD and Intel?

Let's not forget that IA32e (64bit mode on Intel) is better known as AMD64 and is used by Intel on license.

Anyone with an Intel mac is running software that would run on an Intel chip.

Let me clear something up, IA32e is what a 64 bit intel chip uses to run 32-bit operating systems and applications. You probably meant EM64T which is what gives the chip the capability to read 64-bit instructions.
---
We miss you Father and always
Here comes my 23" display.
---
ill miss you poems i will
Already a thread and still in Current Events.

http://forums.macrumors.com/showthread.php?t=1141721
---
I will be reading two brief
Europe calling
Jan 16, 01:40 AM
The Macbook Air will be like a one night stand with a hot looking chickie.
Once you get to know her better you'll dump her because of what's missing! :D
---
missing you poems i love
Last year the store was updated long after midnight.
---
missing you poems
D*I*S_Frontman
Jan 12, 06:28 PM
Look, people--

There is nothing amazingly new or innovative technology-wise in the iPhone. Everything in it has been done before, and it does not even employ some of the latest (3G) features that its competition does.

Niether did the original iPod. Grasshopper, go and learn from Thread #500. People thought that product was "crippled" by high price and no new technology ("An overpriced HDD-based mp3 player with a B&W LCD display? Who cares?").

I predict that Apple will have 20% of the entire cell phone market and 50+% of the high-end communication device within three years of its June release. That will mean 150-200 million units.

In the intervening six months before formal release, or shortly thereafter, some of the smaller issues will be attended to (like the ability to at least open and review MS files, sync'ing issues, interfacing w/iTunes Store, what have you). The rest won't matter.

Apple does not sell products, people. They sell personal productivity, great user experiences, wow and chic. This phone phone meets all of those criteria. For consumer devices like these, a streamlined and intuitive user experience is like money in the bank. The only thing innovative about the iPod is the stupid click-wheel, and yet 75% of the ENTIRE aac/mp3 player market is controlled by ONE COMPANY. The one with the click-wheel.

So it is with this product. If the final build quality of the unit proves durable, reliable, and cosmetically superior, and the unit functions as billed, it will not only make a huge forray into that giant market, but essentially create a new one.

Right now, the "smartphone" is really a piece of business equipment. Apple just invented the quintessential "consumer" version of the same product. It doesn't matter that it is expensive or lacks some high-end features. If is actually works as effortlessly and seamlessly as billed, it will become another cultural icon. Apple marketing will see to it that everyone on the planet is aware of how "cool" this device is.

I'm glad to be on record here. I hope that when this thread is reviewed three years from now, everyone is talking about the foolish naysayers of Thread #3245138 (or whatever this one is).
---
i will miss you poems. will
The prototyping lab :rolleyes:
---
i will miss you poems. short i
marktwain
Nov 23, 07:25 PM
I hear Apple retail stores open as early as 7am!!

Actually, they all seem to have different opening times...you can check the hours here...

http://www.apple.com/retail/holidayhours/
---
i will miss you poems. ill
Wonder if he'll let me crash on his sofa!

his sofa will probably crash on it's own.
---
i will miss you poems
Happy birthday to Apple's 'ONLY' good OS! :)
---
i love you poems.
I like the reputation system slickdeals uses. Give points to useful posts (that the user then accumulates) - allows people to realize who the better posters are, as having a high post count can be worthless.
---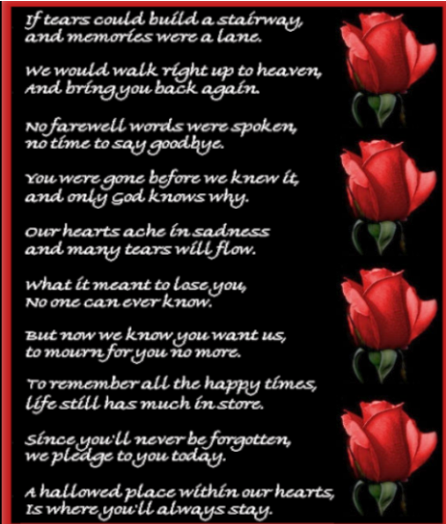 More poems :I
aristobrat
Jan 12, 07:24 PM
Have not watched the keynote. Not going to bother.

I'd like to see a bit more commitment from Apple (the company previously known as Apple Computers) on the computer side before I consider recomending any kind of Mac to people again.
You didn't watch the actual source of all of this information, but yet you feel that Apple might not be committed to the Mac anymore? Oye. Watch the first five minutes of it. :)

I think that those who think that SJ & Apple are beyond criticism merely confirm the excellent points you've raised in your post.
I find that most folks here are very critical of Apple and its products and don't usually hesitate to criticize where they feel appropriate. Just because not everyone participating in this thread don't agree with the OP's opinion that SJ is an arrogant SOB doesn't mean that everyone worships him either.

If all the iPhone mockups out there had missed the mark, the iPhone would be revolutionary, but there were quite a few that were based on the idea of a huge display and no keys.
I missed the markup where the full-screen video iPod was combined with the iPhone into on device.

The modest memory, for one, and for another the absence of 3G which is somewhat of a shocker - 3G has been a staple of top-of-the-line phones for years now.
Welcome to America. We're just now getting 3G (in regards to GSM networks, anyhow).


If not the business market, then who? It can't be kids, as it has no games, and allegedly no support for custom ringtones. It can't be business users, since they'll want Outlook or Lotus Notes sync, and possibly a navigator, and they'll most definitely not want to use frickin' iTunes to sync up. Which leaves, I dunno... Mac enthusiasts and 30-somethings who are hoping for 15 minutes of fame by the watercooler? He did say his goal was 10 million units.[/QUOTE]
---
i will miss you poems.
If I remember correctly, PDF became an open standard a few years ago. I think it was late-ish in so maybe it was just too late in the development of Windows 7 to get it in, but now it will appear in 8.

Nah. Native PDF support (import and export) was supposed to be a feature of Windows Vista but was pulled at the last minute because of Adobe's lawsuit threat. Apparently, Microsoft and Adobe have worked it out. They've had it ready for a long time. You could even download a PDF plug-in for Office 07 directly from MSFT.
---
I#39;ll only be beautiful in my
To the people posting screenshots: You do know that you're breaking the non disclosure agreement you made with Apple when you signed up for the Mac Dev Program? If they track you down, the small print pretty much says they can do very evil things to you. Tred carefully, it's likely Apple will be watching out for people like you.

Who reads those things anyway...
---
We#39;ll miss you, Brian. - Viggo
firsttube
Sep 12, 07:47 AM
Does anyone else think selling/running video in iTUNES is a little counter-intuitive?

Yep. Personally, I hate having video in itunes, such a pain, and i have yet to find a way for videos to not appear in the main library, but only in the video directory. am i missing something there?
---
You need to be a member of
Santabean2000
Oct 4, 08:53 PM
I never said it was normal for the "rest of the world". I was simply stating what was normally considered a mansion in the US.

Which brings me back to the notion of perspective. I'm not trying to get at you. It's just been my experience that a lot of folk from the US don't actually know that they're from the US; you ask them "Where are you from?" and they'll reply Texas, LA, etc. You really sense a lot of people feel like the US is the world, and have never ventured too far out of it. Again, I'm not trying to get at you; you may be the most worldly of people.

I was just getting mad at the folk who claimed that SJ's house was anything but a complete mansion. It is. US definition or not.
---
i will miss you poems. im
Perhaps but they are not competing right now on either products or road maps.

You don't change vendor like the wind blows.


IBM and Motorola? :)

It's nice for Apple to have the bargaining chip when dealing with Intel. I agree they're unlikely to follow up on it (if there's any substance at all....which is seriously doubt).
---
Well right now I have two
Mad Mac Maniac
Apr 22, 09:58 AM
Anyone else hate the ugly purple square around the arrows? What purpose do they serve?

I do think there should only be "ups", but the icon could be a checkmark. When you click it some subtext would appear below/next to it. Something like "You liked this comment" or "You agree with comment" or "This comment was helpful".

Probably the first of the 3 suggestions is best, because it covers much broader scenarios. Additionally you could also break it down into different buttons like a "agree" button and a "helpful" button, but maybe we want to just keep it simple.

Also, I still think it would be good to accrue the number of "likes", "agrees", or "helpful", or whatever it would be to help the member obtain different statuses.

As I'm thinking about it, it may also be beneficial to weigh in the percentage of "liked" comments in addition to the amount. For Example, a person with 20,000 comments may have 500 likes, and a person with 50 comments could have the same 500 likes, but clearly the second person typically produces better comments and that should be considered accordingly. Of course this may be slightly difficult to factor exactly how to do it, especially when you consider that people have been using this site for years and already have accrued thounsands of posts. (perhaps this system of "percentages" would only apply to new posts after this system was in place)

Just spitballing here. am I out of line?
---
i miss you friend poems
billystlyes
May 2, 11:47 AM
"Bugs". That's so funny. Like it wasn't something indented by Big Brother, make that Apple. We truly do have a new evil empire now.
---
carbontwelve
Apr 4, 06:21 PM
Note: I do not endorse anything I say in this post, and as such cant be held liable if you stupidly follow my advice, which is to be taken with a pinch of salt.

visit the house on the pretense that your a sales person selling something, or some form of public service agent - if your good at acting then the con job wont be hard to pull off...

Once you have identified the unit as being yours, attempt once again to get the police help you retrieve it. If that fails then break in and get it yourself, just make sure you do a clean job, study the family for a while to make sure you know when the house is empty or quiet. Then either drill out a lock and bash open the door, or break a window to gain access, if you have the tools pick or bump the lock as that leaves behind the least amount of evidence. Once inside retrieve your goods and leave, if you have picked or bumped the lock it will be a while before they notice. The other methods of entry will be noticed pretty quickly and increase risk on your behalf.

Once inside, just retrieve what is legally yours, nothing else unless you really want to break the law for real... bring some spray paint, a whole lot of dog **** in a big bag + 1/4 stick dynamite and what ever else you want to trash the place with. Spray up the place and then the cherry on the cake is putting the stick in the **** placing it in the center of a room lighting and run :)
---
Could have been worse guys, they could have put in a Facebook "Like" button. :D
---
cuestakid
Apr 11, 09:53 PM
Sharks playoff tickets against the Kings 4/16
http://sharkspage.com/jpgs4/sharks_territory.jpg
http://farm6.static.flickr.com/5185/5611814286_62d5df7613.jpg

Lucky you-when u sitting ?(I live in SF and have been to many playoff games)

and be sure to go here and gloat with me!

http://forums.macrumors.com/showthread.php?t=1009685
---
I doubt Lee missed your point; maybe your point is just undefendable. For example, explain how you can prove that adding a bit of content about modern history will somehow force something else out of the curriculum. That there are a finite amount of class hours isn't good enough.

As we march through history, we have to condense more and more of it into a class. It wasn't that long ago that we added the space program to our description of modern history. Then JFK. MLK. Civil rights. Space shuttles. John Hinckley Jr. Fall of communism. Berlin Wall. Iraq. 9/11. Tsunamis. Egypt. What did these things take the place of or force out of the curriculum?

Incidentally, when I came through school many years ago, it was mentioned that Einstein was a Jew. It's not irrelevant - it's part of his story and part of who he was. In my classes, it wasn't swept under the rug, but neither was it mentioned "first" nor did it make me want to convert to Judaism. Adding a facet to our understanding of a person in history is not promotion.



You really don't get that it's not promotion. There is a big swath of gray area between promotion and concealment. The GLBT struggle for equality is part of our culture whether you are involved in it or not. It should be entered into the records.
Adding those decreased time for other things, ideally World History and American History would be 1.5 years. JFK gets summarized as the first Catholic to get elected to president, led the disastrous Bay of Pigs and then got shot, ignoring the Peace Corps and the Space Program. John Hinckley Jr. isn't in the textbooks at all, IIRC he tried to kill Reagan and there was something about Jodi Foster

No one is saying it is, except for you. Nothing is being placed above anything else. There is no order of importance.



I'd prefer he be remembered for both, as they were both part of him. It's important for gay kids, like other kids, to know there are people just like them who have done great things. They're called role models. Why that bothers you is beyond me.



Yes indeed. But why we differ is puzzling to me.
There is a finite amount of time, the more ways you slice it the smaller the pieces get

So a gay should see Turing and strive to be as good a mathematician as Turing? Why shouldn't they strive to be the best mathematician there is?
Everybody stop doing stuff.

History's all full now.
Or we can make more time for history
I don't think you understand the thrust of this law. It's not about creating a separate class on gay rights, it's about incorporating gay people into existing history lessons. You mention Oppenheimer. Unless, I'm mistaken, the fact that he was a jew is mentioned in most history books. The same with Einstein. The Chinese Exclusion Act of 1882 was a pretty big deal, as were the US internment camps for Japanese-Americans during WWII. The Act and the camps are pretty self-explanatory. They were directed at a specific ethnic group of people. Gay accomplishments and persecution has mostly been swept under the rug.

Harvey Milk wasn't shot because he was gay, he was shot because he defeated a very disturbed man in an election. But, the fact that he was gay is pretty important.

The story of America is a story of minorities.



So the Pink Triangles of the Holocaust are irrelevant?



Wow, I don't know what to say. People of distinction aren't simply born that way, one's upbringing and the time in which they came of age play an enormous role. Any number of American industrialists were driven by adverse events during their formative years. Those events are almost always touched on. Being gay for most of human history has been pretty difficult. To not touch on that is really stupid and shows a bias that when it comes to history, should not be shown.
In American studies we didn't even mention the Manhattan Project, we didn't cover discrimination against the Chinese, we spent five minutes on the morality of Japanese Internment camps, but we didn't go why they interned them.

Harvey Milk wasn't shot because he beat Dan White in an election, Dan White resigned the position of supervisor because he felt the salary wasn't enough, but within a couple days he wanted his job back, he blamed Milk for not letting him have his job back and White jumped off the deep end.

The Holocaust was summarized as the Nazis were evil, they gassed, burned and worked to death lots of Jews, the Nazis were bad m'kay?
They're not in the records?

Come on, guy. Does it really matter if somebody were gay? I thought people of a liberal mindset are supposed to be "colorblind" or what have you, yet all of a sudden their sexuality, which has nothing to do with their achievements, should be made an important part of history?

How hypocritical.
If you set out the best negro x you have already flunked the matriculation exam for the entrance to the university of integration.

You do realize that homosexuality is not new and in fact was prevalent throughout ancient Greece, Rome and Egypt. It wasn't until Christianity took root and became prevalent that homosexuality was looked down upon. You can thank religion for that (Leviticus 18:22). So in fact, for most of human history homosexuality was seen as no different from heterosexuality.
Bisexuality was not uncommon, pure homosexuality was still rare and being penetrated was looked down upon because you weren't being the man in the relationship
---
John Purple
Jan 15, 04:37 PM
SJ announced 4 m iPhones sold. I believe I read some days ago that 5 m have been expected??
Maybe I'm wrong. But if not, we learned today that iPhone and Apple TV aren't doing well. Apple should refocus on their core business before to many Mac customers leave disappointed.
---